Jain Sadguru Image's Capital Park / Project Details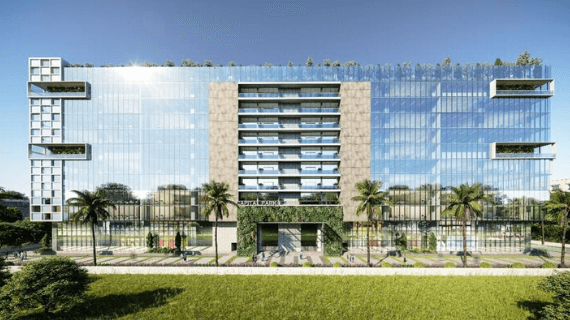 The Hyderabad Information Technology and Engineering Consultancy City, abbreviated as HITEC City, is an Indian Information Technology, Engineering, Health informatics, and Bio-informatics, business district located in Hyderabad, India. HITEC City is spread across 200 acres of land under suburbs of Madhapur, Gachibowli, Kondapur, Manikonda and Nanakramguda, the technology township, also known as Cyberabad. The area comprises of IT parks such as L&T Infocity, Hitech City 2 SEZ, Mindspace Cyberabad SEZ, DLF IT SEZ, Tech Mahindra IT SEZ, TCS Synergy park IT SEZ, SEZs of Infosys, Wipro and APIIC, built to suit campuses of several major technology companies.
Located bang in the midst of all these like minded companies, will be the new landmark of Hitec Hyderabad, Jain Sadguru Image's Capital Park. Comprising of Grade 'A' 11 floors impeccable architecture and 4 level basement parking, 850,000 square feet with super built up retail and commercial space, Jain Sadguru Image's Capital Park will be your new address of success and pride, at the Capital. Offering a world of conveniences and comforts, Jain Sadguru Image's Capital Park will create an atmosphere that will make work more productive, and also offer a learning platform for leaders who want to carve a niche and name of their own in the corporate world.

IT'S NOT JUST ANY OTHER ADDRESS. IT IS YOUR IDENTITY OF PRIDE.
Jain Sadguru Image's Capital Park will be an iconic, Grade-A business hub for all those companies, start ups and financial institutions who prefer to have their business address reflect its pride. Emerging soon at one of the most popular corporate destinations in India today, due to its proximity to the city's prominent IT Hub, Financial District, Star Hotels, domestic and international airport and metro rail networks, Capital Park will house premium retail space at the ground and first floors with exclusive elevators and a separate entrance to the front lobby and commercial office space, connectivity to residential hubs and availability of modern high quality office space. It will be an energy efficient hub, given its superior design, high quality construction, with efficient floor plate and availability of plenty of thoughtful luxuries.

TOWER WITH AN INTERNATIONAL OUTLOOK
Spread over 3 acres, with large open setbacks all around, Jain Sadguru Image's Capital Park includes an open landscaped courtyard that envelopes to the entry of the main block. To achieve a better floor height construction has been done using curtain wall glazing with aluminium frames on the external facade and triple height lobbies that portrays a neat corporate look to the main entrance.
The elevation has been exquisitely designed with a medley of alcobond, heat reflective modern glass elevation facade and plain glass to give maximum visibility to all retail and office spaces. The stunning use of vibrant colours and glass on the facade together with a spacious air-conditioned central leisure area inside, reflects a truly international outlook of the tower.